Identity guidelines
Primary mark
The Wayne State University W shield reinforces the strength and determination of a Wayne State Warrior, building on the legacy and energy of what was previously the Athletics mark. The logo incorporates an updated Wayne State University type artwork, giving a nod to our traditions while providing a more contemporary alternative. The graphic works well in small and large formats. This mark, or one of its variations, should be the first consideration when a Wayne State logo is used for external audiences.
Variations
Stacked                 
Horizontal — with full name

To be used when space constraints present an issue (examples include exterior signage and/or website headers).
Reversed                    
To be used on a dark background such as the Wayne State green (PMS 561). The reverse option is limited to white.    
One-color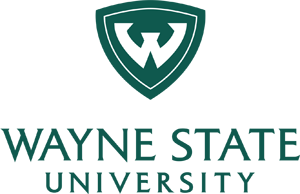 Can be used in the Wayne State green (PMS 561) or black. All other one-color variations must be approved by WSU Marketing and Communications.

Schools and colleges
The goal of all Wayne State units should be to reflect a consistent identity and use the primary mark. However, in instances where a supporting unit needs to be identified, the specific unit can add its name in one of the following formats.
Logos have been created for all of the schools and colleges of the university. They are available for download at mac.wayne.edu/downloads.
Departments/programs
To create an official Wayne State University logo for your department/program, view the templates at https://mac.wayne.edu/downloads under Department, program, unit.
This treatment is considered the official logo for all units (schools, colleges, programs, departments, student groups, etc.). Other graphics that exist outside of the standards in this document that are used as logos may not be supported by WSU Marketing and Communications.
Special marks
This is Wayne State's primary mark and should be used whenever possible.
However, it is recognized that within some platforms, the full mark as it is shown is not possible (examples might include merchandise or signage). Often, the mark is used within a Wayne State University experience (examples include on-campus displays and digital platforms). Special mark variations are provided to meet this variety of needs.
Shield-focused primary mark
To be used when the visual impact of the shield is critical due to size restraints.
Shield alone
To be used when it is unquestionably a Wayne State experience.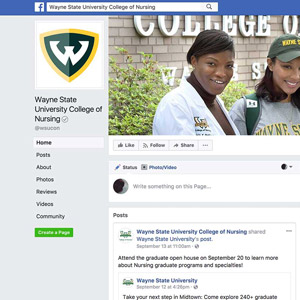 Restrictions
The logo is artwork and not type. Do not attempt to recreate it.
Do not resize any of the elements.
Do not change the proportion of the logo.
Do not replace or redraw any of the elements.
Do not change the colors.
Do not place the logo on items that are distracting or difficult to read.
Do not use the use the logo elements separately (except where noted in the special marks section).
Do not add to the logo elements.
Do not pull elements from the logo to create new graphics.
Do not type "Wayne State University" — use the provided artwork only.
Do not stretch or reshape the logo.
Do not pixelate the logo.
Do not use the logo where it isn't clear and readable.
Do not use the logo on any merchandise without following university licensing guidelines.
Other Wayne State logos
Warrior W
The W logos serve as iconic symbols and provide identification to Wayne State University upon a glance. These logos should maintain their iconic shape in all instances. Placement of them and the overall impression provided by their placement should be considered.
University seal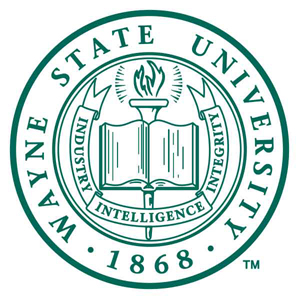 The university seal is used on official documentation and material for the Board of Governors or the Office of the President. Permission to use the seal must be obtained through WSU Marketing and Communications.
These logos should be used without modifications or additions. Any variations to the logos reflect directly on the overall reputation of Wayne State University and weakens our legal protection. If you have any questions regarding the use of Wayne State logos, contact Marketing and Communications at 313-577-8157 or visit mac.wayne.edu.
Colors
Green
Pantone - 561 C
CMYK - 92 42 68 48
RGB - 12 84 73
HEX - #0C5449
Gold
Pantone - 1225 C
CMYK - 0 22 84 0
RGB - 255 204 51
HEX - #FFCC33
Wayne State University school colors are represented in print work as green (PMS 561) and gold (PMS 1225). There are no specific percentages of each color required for documents, but the takeaway should be an awareness of the school colors. Unofficially, black and white serve as supporting colors, primarily as the color of body copy.
Special projects
VIP audiences communicated to by the Office of the President, donors, the Board of Governors, government officials, etc., often require a more formal feel than the collegiate green and gold. In these special instances, metallic gold (PMS 871) and silver (PMS 877) can be used.
Fonts
Font family
WSU general fonts are from the Stone family. Stone provides flexibility that can be used in any application: body copy, headlines, letterhead, etc. You can download the Stone family fonts at mac.wayne.edu/downloads.
Fonts specific to the Warrior Strong campaign can be purchased at the following links:
Additional guidelines